Getting Started

Advanced Usage
Tray Mode
In case the addin fails to load, OneMark offers a tray running mode which has the exact same functionality with.
How to start
Open OneMark's install location (default in C:\Program Files(x86)\OneMark), find OneMark.Tray.exe and run it. It will show a tray icon on the cornor of task bar .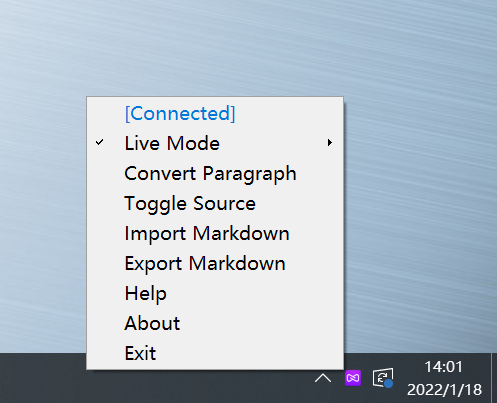 If OneNote is running, it will show [Connected], otherwise [Disconnected]. If OneMark starts before OneNote, it will not connect with OneNote automatically. You need to click the tray icon to connect with OneNote.
Because tray mode can't start automatically when OneNote starts, it is recommended to use the addin mode.
You can create a desktop shortcut of OneMark.Tray.exe for convenience.
Portable zip version
If the msi fails to run, you can download the portable zip version and unzip it. Before your first usage, You need to run Neux.OneMark.Tools.exe to set up some configurations and restart OneNote, then run OneMark.Tray.exe.